Tripawds is a user-supported community. Thank you for your support!
Hi everybody
Well, the other day my mumma yelled, "Eureka!"….well maybe she didn't say Eureka, but she did decide what kind of monkey, I resemble…a vervet.  Check it out: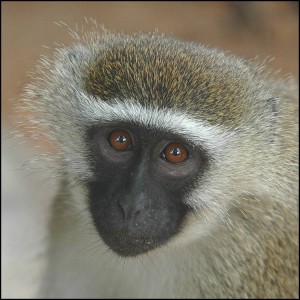 Whaddya Think?
I'm growing up pretty fast.  I weigh 18.2 pounds!  Which means:  I GET MORE FOOD EVERY DAY!
I started school last week.  It's really lame.  They're trying to teach me things I already know.  Sit, Down, Stand, Watch Me.  Jeez whadda they think I am? 10 weeks old?  I am nearly 14 weeks old for pete's sake.  By the way, who is pete anyway?
Oh yeah.  I have been going to the doctor every week.  They are looking for someone named, Annie Biotic.  Apparently, there are a number of people with this name, because they haven't found the right Annie, yet.  I hope they find her soon.  I am getting sick and tired of the whole doctor thing.
Well, my mum has the day off and she promised to play with me.  Every dog I try to play with, doesn't seem to want to play with me and I don't know why.  The cranky little pug-boy that sat next to me in school was all goody-two-shoes trying to score points with the teach.  Everytime I tried to play with him, he got all snooty and wouldn't play.  The ole apple polisher.  I know the pugapalooza would have played with me.
I wanted to post some photos of me, because I am getting cuter everyday, but my lame mumma left the stoopid computer connectors at work, so I couldn't do it today, but I will soon!
Rock on Monkey Dogs!